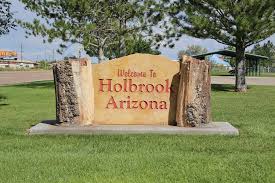 We are much more than a school district - we are a vital part of a community. Learn more about the City of Holbrook and its surrounding attractions.
City of Holbrook
Holbrook is a community rich in History, Family Values, Diverse Landscapes, Recreation, and Friendly Neighbors. Everything you are looking for in a home town.
Holbrook Tourism
It's hard to say what takes center stage in Holbrook. It's a canvas painted with mid-century Route 66 kitsch, Wild West characters, and unforgettable landscapes.
Holbrook Information
Discover Northeastern Arizona's Attractions
Chamber of Commerce
The Holbrook Chamber of Commerce is committed to make our community a better place to live, work, and do business.
Tribune News
Your news, your paper, your website. Serving central Navajo County
Holbrook Public Library
The Library on Route 66
Holbrook High School Alumni Connection
Re-connect with your old fellow Roadrunners
Holbrook Profile
2016 Community Profile for Holbrook, AZ